, MrsToday we are participating in Top Ten Tuesday. And because I really need more new ideas for dinner, I am suggesting we do a top ten things you make for dinner list. Then, I can get new things to add to my list, you can get new things for your list. See? Win-win. Don't forget to link here, leave your answer in comments, AND also link to Oh Amanda (see button below!)
1.
Burrito Casserole
(my son's favorite thing ever)
Take 6 frozen burritos, and microwave per directions in an 8x8 dish.
Mix one can of rotel with 8oz of sour cream & pour over burritos.
Top with about 1/2 bag of Mexican blend shredded cheese.
Bake for about 15 minutes at 450*F to melt cheese and make bubbly, serve with chips.
(Healthy? No. But, quick and easy? Yes)
2.
Easy Pot Roast and Veggies
Ingredients
2 cans condensed cream of mushroom soup
1 package dry onion soup mix
2 1/4 cups water
5-6 pound pot roast
8-10 small new potatoes cleaned and halved
1 bag carrot sticks
Directions
In a slow cooker, mix cream of mushroom soup, dry onion soup mix and water. Place pot roast in slow cooker and coat with soup mixture.
Cook on High setting for 3 to 4 hours, or on Low setting for 8 to 9 hours.
3.
Spaghetti
. Ooooh, exciting.
4.
Tater Tot Casserole
Ingredients
1 1/2 pounds lean ground beef
1/2 onion, chopped
2 cans whole green beans
1 can cream of mushroom soup
1 (32 ounce) package frozen tater tots
Directions
Preheat oven per tater tot instructions. Brown hamburger along with onions. Spray 9x13 glass baking dish with cooking spray. Mix green beans and browned hamburger with diced onions with the soup and pour into pan. Layer tater tots on top, covering entire top with tots. Bake per tater tot instructions.
5.
Homemade Hamburgers
. Woo hoo.
6.
Grilled pork chops, veggies and rice
.
7.
Order pizza
.
8.
Easy Peasy Chinesey
1 can cream of mushroom
1 can cream of chicken
1 rotisserie chicken de-boned
1 can crunchy chow mein noodles
cooked rice
soy sauce
Heat soup and combine with chicken. Pour over plated rice, top with crunchy noodles and soy sauce to taste.
9.
Brats and salad
.
10.
Chicken and rice casserole.
Link up! I need variety.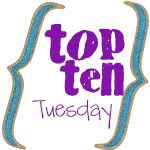 ~Mrs. Sinclair~