The two teams have been determined, and it is the second-largest day for U.S. food consumption, after Thanksgiving Day-yes, it is time for Super Bowl XLV. In most years, the Super Bowl is even the most-watched American television broadcast. Are you ready for some football? What colors will you be sporting this Super Bowl Sunday? Will it be a little yellow with a cheese head for the Packers? How about some black and gold for the Steelers? Or do you simply watch the game for the commercials? That's how I got started, all because of a marketing professor at
SWOSU
requiring me to write down every commercial and discuss them for a grade- the only "C" I ever made in my life was in that class! Oh yeah, we are not blind, we know the REAL reason people love the Super Bowl and it has something to do with all of that consumption.
A few weeks ago we challenged you to a
Super Bowl Appetizer Competition- RHOK Style
. I think we summed it up pretty well then that honestly it wasn't the game or the commercials that are going to leave a lasting impression. But those fantabulous appetizers that you bring to the Super Bowl parties! Would you like to know the winner of our little competition?
Stacie shared not only one, but two prize winning appetizers. She summed up a Super Bowl party very well.
"Now, Super Bowl parties are different from other football outings in that they tend to be a blending of the guys and gals. So here goes--a spicy, meaty appetizer for the guys and cute, salty, sweet appetizer for the gals."
Monkey Brains
1lb. Neese's hot sausage, browned and drained
1lb. Velveeta cheese (no reduced fat or 2%, per Rev it changes the consistency)
1 16oz. jar of salsa
Combine all ingredients in your slow cooker, crank that puppy up to high and wait.
Give it a good stir every once in a while.
Cook approximately 30 minutes or until cheese is completely melted and combined.
Serve with tortilla chips or Fritos Scoops.
Bugle Party Hats
1 1/2 cups creamy peanut butter
6 cups Bugles original flavor snacks
12 ounces white chocolate chips
Fill plastic sandwich bag with peanut butter.
Cut small hole in corner of bag.
Twist open end of bag tight and carefully pipe the peanut butter into the Bugles.
Refrigerate and allow peanut butter to firm up.In a microwave safe bowl, melt candy coating at 70% power for 1 1/ 2 minutes. Stir.
Heat 1 to 1 1/2 minutes longer or until melted; stir until smooth. Dip the peanut butter filled end of each Bugle halfway into the chocolate coating.
Dip in any type of sprinkles desired.
Congratulations Stacie! If you will forward your mailing address to
wearerhok@gmail.com
we will get your prizes mailed to you!
We would also like to make honorable mention of another entry into the contest. Lauri at
Rott-I-Tude
is a faithful reader who kept promising and promising us this tantalizing recipe and since she is sooooo busy right now- YES she is busy- after all she is the Executive Director for the
Mrs. Oklahoma International Pageant
and with the pageant coming up March 5-6, she got her dates wrong and was a day late in getting her appetizer in. But, being the fabulous and understanding Housewives we are, we told her we still wanted her to post it on her blog and we would share it!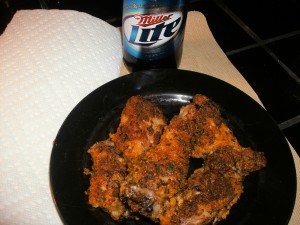 Heroin Wings (love the name and they are low carb)
4 lbs chicken wings or thighs
3/4 cup butter
1 1/2 cup grated parmesan cheese
3 tablespoons dried parsley
3 teaspoons paprika
1 teaspoon salt (I never add salt)
1 1/2 tablespoon oregano
1 teaspoon pepper
First, preheat the oven to 350.
Line a shallow baking pan with foil.
Then combine the grated cheese and the seasonings.
Melt the butter in a shallow bowl or pan.
Dip each chicken piece in butter, roll in the seasoned cheese, and arrange in the foil lined pan. Bake for 1 hour at 350.
We would like to thank everyone for taking time to submit and participate in The RHOK appetizer contest. We hope you have a wonderful and safe time this weekend and may the team who scores the most points WIN. Let us know if you try out any of these recipes and be sure to visit the two blogs mentioned above and give them some comment love! Special thanks to Katie at
Dishin & Dishes
for being our special guest judge!
♥Mrs. Hart♥