Happy Fall Ya'll!
Now that is "officially" Fall & the weather seems to be cooperating so I am in the mood to decorate the ranch. I'm not hiring a interior decorator for the holidays like Mrs. Robinson. So with that in mind & Mr. Montgomery keeping a tight reign on the budget, I thought I would share a few craft projects I am working on...
For our Fall family & friend get togethers here is a simple, adorable idea for your veggie tray...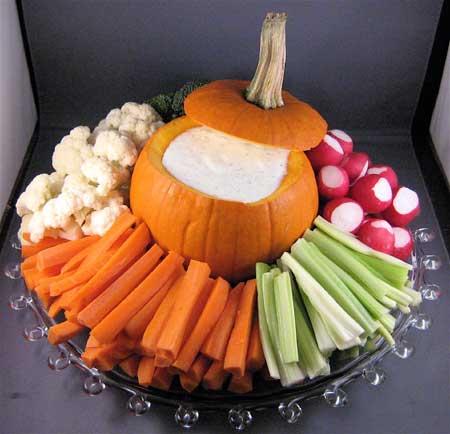 We are a football family. Our boys play, we love to watch college games & Bubba loves his professional teams on Sundays. When I found these cute food ideas I just couldn't wait to try a few. I also plan on sending the cute lil' football cookies & crackers in lunchboxes :)
Out on the ranch I'm always up for a little sparkle. This project will be so simple; Small pumpkins, Decoupage & GLITTER!
Hope you are enjoying this change in seasons. If you have some cute Fall ideas please share links in your comments. I'm always up for cooking, crafting & creating out here in the sticks country :)
For all our local housewife friends be sure to mark your calendar for our Fair RHOK Out!
Happy Monday-
Mrs. Montgomery
Covered in Glue & Glitter like a...